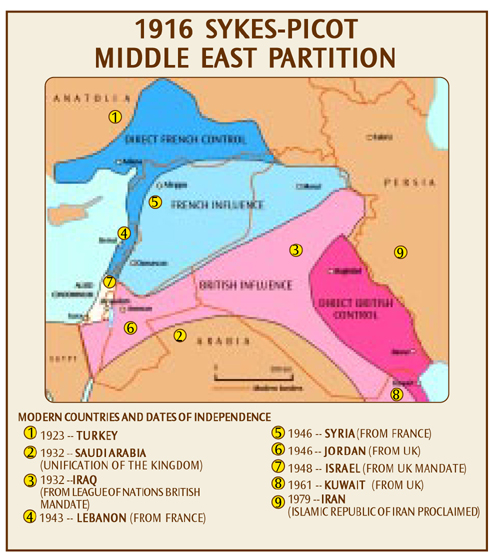 ISIL (Islamic State in Iraq and the Levant), for all its evils and horrors, has done the people of the region a great service by taking Mosul from the Iraqi army: burying the Sykes–Picot treaty in history's pages. This treaty has caused more violence and bloodshed than ISIL or any terrorist group ever could.
1. An excerpt from, "Iran's intervention in troubled Iraq could broaden regional conflict" by Patrick Martin, The Globe and Mail, June 12, 2014:
Spurred by threats against Shia holy sites in southern Iraq, Iranian President Hassan Rouhani announced on Thursday his country was prepared to wage "combat" to repel the jihadist group known as the Islamic State of Iraq and the Levant (ISIL), which is currently sweeping across north and central Iraq.

Iran was responding to threats issued by ISIL spokesman Abu Mohammed al-Adnani, who vowed that the jihadists, who have chalked up several conquests in Iraq from Mosul to Tikrit, would not stop there but press on to Baghdad and to Najaf and Karbala, site of the two most important Shia shrines, which millions of pilgrims visit every year.

"We have a score to settle," Mr. al-Adnani said in a video statement, urging on the ISIL fighters. And the score must be settled with the Shiites.

A senior security official of Iran, a Shia state, elaborated on Mr. Rouhani's message, accusing Saudi Arabia of being behind the ISIL campaign. The Saudis, he said, are trying to take revenge in Iraq for their failure to oust President Bashar al-Assad in Syria. In an interview with the independent Al Mayadeen satellite news channel, the unnamed official said the Saudis "will feel the heat soon."

Simon Henderson, an expert on Saudi Arabia at the Washington Institute for Near East Policy, agrees with the analysis. ISIL's attack on Iraq "reflects the wider war between Shiites and Sunnis for control of the Middle East," he said.

In a paper published on Thursday, entitled The Battle for Iraq is a Saudi War on Iran, Mr. Henderson noted that ISIL's defeat of Iraqi Prime Minister Nouri al-Maliki's forces "has been the dream of Saudi Arabia's King Abdullah for years. He has regarded [al-]Maliki as little more than an Iranian stooge," refusing to send an ambassador to Baghdad and encouraging other Gulf States to do likewise.
2. An excerpt from, "Is this the end of Iraq as we know it? Government powerless against Islamists" by Mitchell Prothero, McClatchy, June 12, 2014:
"The collapse of central authority also was evident in Baghdad, where the Iraqi Parliament failed to muster a quorum to consider a request from Prime Minister Nouri al Maliki for a declaration of a state of emergency. Maliki responded in a statement read on state television by accusing Sunni political parties of conspiring to destroy the state. In recent days, Maliki, who also serves as the defense minister, has blamed the same parties for the army's massive desertion in the face of the ISIS offensive.

"Iraq's future at this point is being shaped by conflict rather than by a viable political system. No one really knows where it's going," Salman Sheikh, the director of the Brookings Doha Center in Qatar, said in a telephone interview from Beirut. "The long-term impact could be quite cataclysmic, not just for Iraq, but for the entire region."

The prediction that Iraq would one day descend into an ungovernable space of feuding ethnic and religious groups was first made when U.S. forces toppled Saddam Hussein in 2003. Now that it seemed to be happening, many found it difficult to grasp the unfolding reality."
3. An excerpt from, "The Rise of 'Cleric Militias' in Iraq" by Ali Mamouri, Al Monitor, July 23, 2013:
Since February 2013, there have been announcements about the formation of new militias at the hands of a cleric named Wathiq al-Battat. The latter has also formed a political party named Hezbollah Islamic Renaissance, which aims to enter the electoral race to establish a religious rule in Iraq according to the Iranian model. This has also coincided with military action on the part of Battat against Baathists and those he described as "takfiris," according to statements made by Battat during an interview with the al-Baghdadiyah TV channel. Battat had previously been linked to the Badr Corps, which was the armed wing of the Islamic Supreme Council of Iraq (ISCI), and later to the Mahdi Army in its fight against the US Army in Iraq. According to statements made by Battat in the aforementioned interview, he spent a long time in Iran, where he obtained a master's degree from a military college. He also said that some Shiite religious scholars supported him when he founded the Mukhtar Army. These scholars include the leader of the Iranian Revolution Ali Khamenei, Kamal al-Haydari, Fadel al-Maliki and others. This claim has neither been confirmed nor refuted by these figures.
4. An excerpt from, "Amid turmoil, Iraq's Kurdish region is laying foundation for independent state" by
As security forces in northern Iraq crumble under the onslaught of Islamist militants, the autonomous Kurdistan region — a bastion of stability — is rapidly laying the groundwork to become an independent state.

Iraqi forces have continued to cede territory to an insurgency led by the Islamic State of Iraq and Syria (ISIS), which is swiftly advancing toward Baghdad after capturing Mosul on Tuesday. Kurdistan's military forces, known as the pesh merga (or "those who face death"), have taken over many of the northernmost positions abandoned by the national army, significantly expanding the zone of Kurdish control.

"As the Iraqi Army has abandoned its posts . . . Peshmerga reinforcements have been dispatched to fill their places," Jabbar Yawar, secretary general of the Ministry of Pesh Merga Affairs, said in a statement.