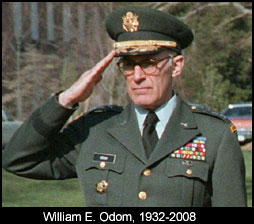 Wikipedia:
William Eldridge Odom (June 23, 1932 – May 30, 2008) was a retired U.S. Army 3-star general, and former Director of the NSA under President Ronald Reagan, which culminated a 31-year career in military intelligence, mainly specializing in matters relating to the Soviet Union. After his retirement from the military, he became a think tank policy expert and a university professor and became known for his outspoken criticism of the Iraq War and warrantless wiretapping of American citizens. He died of an apparent heart attack at his vacation home in Lincoln, Vermont.
Lt. Gen. William Odom
spoke
with Amy Goodman of Democracy Now on October 4, 2005.
His views on Iran:
"I would have a secret chamber with Iran and say, 'You hate the Taliban, we hate the Taliban; you want to sell oil, we need to buy oil; your alliance with Russia is very unnatural; if you want to discuss the West Bank- I'll talk about it but won't give anything away.'
'Oh, and by the way, I'm taking the nuclear issue off the table. You want nukes, have them. You live in a bad neighborhood.' There's no single diplomatic move that would so revolutionize our position up there."" [Source:
"NSA Director William Odom Dissects Iraq Blunders,"
By Michael Hammerschlag, April 2006].