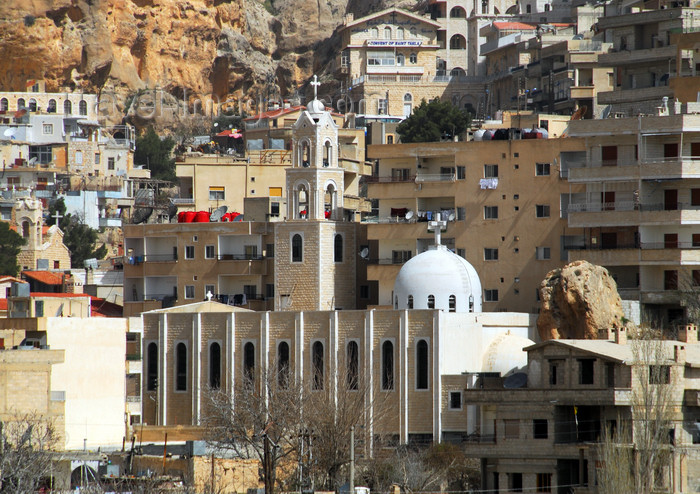 "Rebels including al-Qaeda-linked fighters gained control of a Christian village northeast of the capital Damascus, Syrian activists said Sunday. Government media provided a dramatically different account of the battle suggesting regime forces were winning.
It was impossible to independently verify the reports from Maaloula, a scenic mountain community known for being one of the few places in the world where residents still speak the ancient Middle Eastern language of Aramaic. The village is on a UNESCO list of tentative world heritage sites.
The rebel advance into the area this week was spearheaded by the Jabhat al-Nusra, or Nusra Front, exacerbating fears among Syrians and religious minorities about the role played by Islamic extremists within the rebel ranks." -
Jamal Halaby, "Al-Qaeda-linked fighters seize ancient Christian village in Syria," The Globe And Mail, September 8, 2013.
"The present Syrian government is the protector of religious minorities. If you pray, pray for the people of Maaloula." -
Colonel Patrick Lang, "Islamist jihadis capture Christian town in Syria," September 8, 2013.
"I came to my Christian faith later in life and it was because the precepts of Jesus Christ spoke to me in terms of the kind of life that I would want to lead, being my brothers' and sisters' keeper, treating others as they would treat me." -
President Barack Obama, "President Obama: 'I am a Christian By Choice…The Precepts of Jesus Spoke to Me'" ABC News, September 29, 2010.
FSA Invade ancient city Ma'loula Maaloula Syria. Source: Syria Perspective. Date Published: September 4, 2013. Description:
For no reason , at four o'clock AM Wednesday the 4th of September, local time. a large number of terrorists compound of the Free Syrian army, front jabhat Alnousra and the Islamic state of Iraq and the Levant, attacked the ancient city of Maalola and start killing innocent people , destroying their homes , monasteries and churches , Yes, this is what happened today in the ancient city of Maaloula , where armed gangs spread in the city, and set up their weapons in the city square , and shut the doors of monasteries and historical temples.

Maaloula is a town one of 3 places on earth that speaks Aramaic the original language of Jesus christ, and dominated by Christian families since the beginning of Christianity.
Barack Obama - "I am a Christian by choice..."